If anyone has drifted over to http://bookandagarden.com  lately, you've read my review of Margi Preus' blockbuster Heart of a Samurai, a 2011 Newbery Honor Book.  I'm not sure why it took me a year to read this book.  All I can say it was definitely worth the wait. (Check out my review and then read the book to find out for yourself.)
However, there are a lot of books out there that do not have a sticker on their covers that, in my humble opinion, are well deserving of one. Some have already appeared on these virtual pages.  Here's a sample.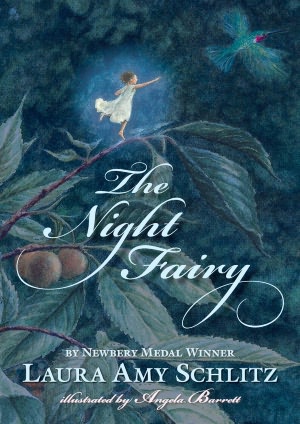 Author Laura Amy Schlitz already has a Newbery Award to her credit (deservedly so for Good Masters! Sweet Ladies!), but this gem is worthy of a spot on the podium.  The heartwarming, inspiring, can't-put-it-down story of Flora the night fairy dazzles.  This one has the makings of a classic.
A little boy drifts off to sleep, soothed by all the sounds of the house around him: the "purr, thump, purr, thump" of two cats and a dog, accompanied by the "sleepy song" of the pipes, floors, and faucets.  Joining the indoor night noises are those of the natural world outside.  The dreamy mood is perfect for sleepytime reading.
More Books That Deserve Awards in a future post.  In the meantime, visit http://bookandagarden.com for reading treasures old and new.