It looks like Hurricane Sandy is coming our way.  While those in certain areas face mandatory evacuations, others wait to hear if there will be subway and bus service, people are stocking up on essentials, and three states have already declared states of emergency, everyone is bracing for what is increasingly certain to be a storm for the record books.  Worse than last year's Irene (which caused devastation far inland in locations like New York State's Adirondack's Mountains), meteorologists predict.
Today was definitely the proverbial calm before the storm.  A bit of sunshine, warm-for-late-October temperatures, and light breezes did not quite mask the sinister undercurrent that a monster is lurking in the shadows.
While, naturally, my first hope and prayer is that all those in the path of Hurricane Sandy remain safe, the storm's approach reminds me of some weather-related reading.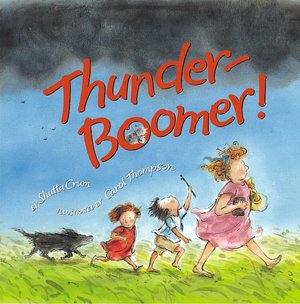 When a sudden thunderstorm blows in on a hot summer day, a farm family scrambles to close the windows and do whatever else is necessary to keep everything safe and dry.  Sound effects add to the delight of this funny tale with a wonderful surprise ending.  Perfect for kids who are afraid of the noisy weather events and anyone else who enjoys a rollicking story.
Three years ago, Alyssa's parents were lost in a hurricane–and the thirteen-year-old has not spoken a word since.  Now, with another storm approaching her Galveston home, will she be able to speak to save the lives of those she loves?  A can't-put-it-down novel for kids 10 and up.
Even young kids will learn facts about hurricanes: the five categories, wind speed, storm surge, and more.  With information about "What to do when a hurricane is approaching. . ." this is a valuable source of information as well as an entertaining, attractively-illustrated book.
Geared toward a somewhat older audience than the above.  Chock-full of information and dramatic photos and satellite images, this book is a must-read for young readers interested in learning more about these powerful storms.  Even those who aren't weather buffs might be after taking a look at premier science writer Seymour Simon's fascinating look at this awesome weather phenomenon.
Stay safe, everyone, and we'll meet again on the other side of the storm.