If I had to describe this year's warm-weather season in one word, it would probably be amazing.  From the happy whirlwind of preparations for our daughter's June 27 wedding, to the extended visit of our married daughter, son-in-law, and their three kids, to my double cataract surgery (look, Ma, [almost] no glasses!), it's been one unforgettable summer.  Now that the newlyweds are established in their own home, the grandkids have returned to Florida, and I'm adjusting to my new vision, the future looks very dull by comparison.  Add that to the normal low I often feel as I reluctantly bid farewell to another summer, and there seems little to look forward to, indeed.
However, I seem to recall experiencing similar emotions in seasons past.  As the sun rises later and sets earlier each day, and dusk greets me as I emerge from the subway station on the way home from work, there is a momentary pang for the loss of daylight.  Yet, by the time I can dwell on what has been and is no more, life happens.  Holidays.  Projects and programs at work.  Fascinating books to read and recommend.  Visits from loved ones.  And, suddenly, the calendar has turned again, and–lo and behold–it is no longer completely dark when I come out of the same subway station.  A glance upward shows me the buds on the trees that have been there since autumn and will, within a few short months, metamorphose into the new year's leaves.  Hope does indeed spring eternal.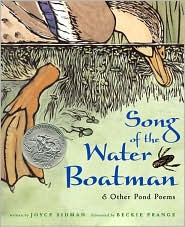 Speaking of seasons, phenomenal poet Joyce Sidman has penned some beautiful verses about pond wildlife throughout the year, accompanied by facts about the creatures who call this environment home.  Kids (and adults) will delight in this charmingly illustrated collection.  (A Caldecott Honor Book)
Join Cammy and William as they take a walk through the woods on an autumn day.  They see signs that certain animals have been there, and each sighting encourages them to answer the question, "Who's been here?"  On the following page, the children discover the identity of the creature with both a close-up picture and informative text.  This treasure is one of the author's collection for every season of the year.
Have an inc-READ-able new season.
May this year be the beginning of even more amazing happenings.