When I decided to write about my favorites, I thought about sharing the best (in my humble opinion) ten picture books of all time.  However, after a moment's reflection, it occurred to me that narrowing my choices to such a small number would be next to impossible.  There are simply too many unforgettable treasures out there.  Even choosing the most-liked picture books published since 2000 is a daunting task.  Yet, there are some that definitely stand out.  They may not have won an award, but I believe they are destined to (or should) become classics.  You, my readers, might not agree with me, and that's fine.  I would like to hear about some of your favorites, as well.
One note: this list is not in order of preference.
So, without further ado…
Aside from being an enjoyable story, this is an unforgettable and poignant tale.  When Ruben Plotnick, the zany kid everybody likes, wants to come over to do homework, David is apprehensive.  What will Ruben think of his grandmother, who suddenly begins talking to her husband (who passed away years before) and acting strangely?  Will he make fun of her at school the next day?  What really unfolds is what makes this story memorable.  There is so much food for thought and discussion here beyond the obvious theme of dementia and its effects of family members.  Friendship, popularity, not judging by appearances or first impressions, and the many facets that make up a human being are all topics that can be explored.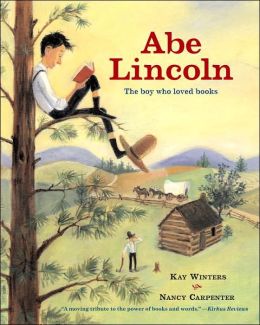 We know many things about our 16th President.  Yet, there is one aspect about Abraham Lincoln that is less well known: he was a book lover from the time he could write the alphabet (if not before).  In charming free verse, Kay Winters tells the story of how books were young Abe's companions, provided comfort in a time of loss, and helped shape the incredible man he became.  This warm story is sure to be popular with young people who love a good tale about a real person–and might create a few new book lovers.  It's too good to be shared only around President's Day.
Miss Brooks is the librarian we all aspire to be.  Her affinity for books knows no bounds; neither does her enthusiasm for sharing stories with her students.  Even Missy, a first grader who detests books and much as Miss Brooks adores them, does not put a damper on her exuberance.  This delightful story is well matched by Michael Emberley's priceless illustrations.  Even real-life Missies might find themselves turned onto this wonderful thing called reading by the time they've finished Barbara Bottner's masterpiece.  Kids and adults will laugh all the way to the library.
Yes, it was originally published in 1993, but I'm including this book for two reasons.  Firstly, it was republished in 2010 with new illustrations.  Secondly, Babara Goldin's timeless tale merits inclusion on anyone's list of favorites.  As the story opens, young Hershel, the only blind boy in his European village, enjoys spending time at the riverbank, creating structures out of mud–and catching a frog whenever he can.  Typical of boys everywhere, he is not above creating interesting "diversions" in class when he is bored.  Yet he also feels concern for the difficulties he causes his widowed mother when he comes home with mud-caked clothing or she must appease his teacher after Hershel's latest escapade.  He longs to be a help to her, not only by performing mundane chores, but in a real way.  Hershel discovers his chance when he is visited in a dream by an angel, who encourages him to make what he sees.  Inspired, the boy locates the dough his mother warned him not to touch–with results that change not only people's perceptions, but his future as well.
Mary Batten takes science books to a whole new level.  Two pajama-clad girls learn about the sleep habits of a number of different creatures, and we join them in their journey of discovery.  In simple prose, the author provides basic information, which is expanded upon on each page.  Combined with illustrator Higgin Bond's detailed art work, this wonderful book is more than just another animal book.  It's a treasure.
Stay tuned for Part Two!