This summer has been one for the books. We've been privileged to have all our grandchildren here for part of the season, and the Floridians are spending the entire summer in the old homestead. I'm not sure I want to think about how it will feel when they return south. It's one more reason to feel my usual letdown as summer begins to fade into autumn. (Although, with Accuweather predicting highs topping 90 over the Labor Day weekend, we're definitely not bidding summer 2014 goodbye quite yet.)
Speaking of a summer for the books, there are some written works I've encountered that have provided hours of delight. (There were even some mornings that I waited for the sky to lighten enough for me to read without needing to get up to turn on the light.) Allow me to share a few of these wonderful books with you.
15-year-old Penelope Lumley is a graduate of the Swanburne Academy for Poor Bright Females. The school's star pupil is offered a position as governess to three unusual children at Ashton Place, owned by one of the wealthiest landowners in England. It appears her students have had an unusual upbringing: they were raised by wolves and discovered in the estate's forest. It takes all of Penelope's ingenuity, determination, and talent to transform these wild young people into proper members of society. Readers are sure to delight in the adventures and misadventures of the governess and her pupils as they uncover and endeavor to solve mysterious occurrences in this entertaining series.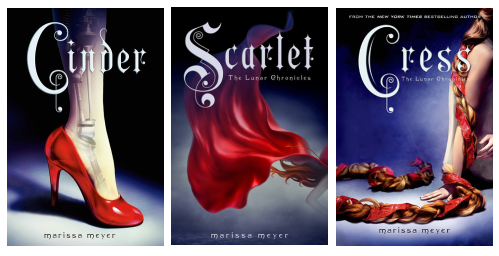 A magical tale by a debut novelist. Star Wars meets traditional fairy tales in this mesmerizing series.The first volume introduces the reader to Cinder, an unusual teen who is both a renowned mechanic and a denigrated member of society. As the heroine learns more of her past, she realizes that thwarting a major threat to her homeland (and the world) is a responsibility resting on her shoulders. When Cinder's story joins that of Scarlet and Cress, the reader meets people who are not what they seem and becomes involved with the growing group of heroes as they make discoveries and face decisions that affect the future of their world. Can a group of teenagers, with the help of a renowned doctor and some fascinating droids, save the day? Stay tuned for the next installments in the saga of Cinder and her friends as they appear in 2015.
If summer has brought such literary treasures to light, imagine what autumn can bring.